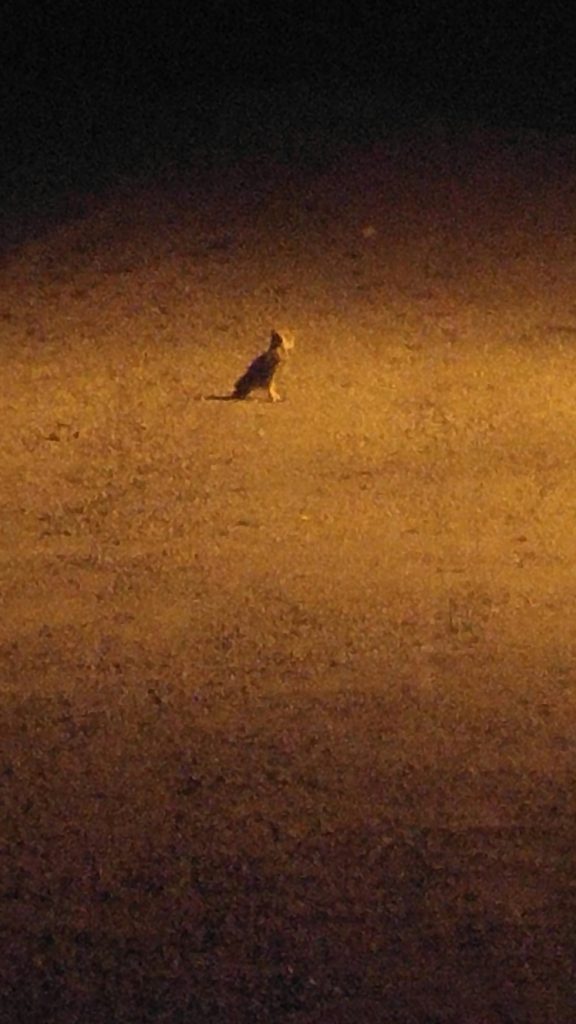 This is our resident screech owl, Owlbert. He comes around most every night and flies circles around our security light as he scours both air and land for dinner. If nothing appears to be promising he will move on down to the creek and canvas the water there as well. He is a very large bird, standing probably two feet in height or more. He is full bodied and at times can be very loud when on the hunt. He is also extremely fast of flight. He is a marvel to watch and listen to.
The rabbits and squirrels have become accustomed to Owlbert and his nightly visits and know how to avoid him. I don't believe the skunks have been as fortunate as we have not see, nor gotten wind of one, since Owlbert showed up some months back.
A few nights ago, while looking out the front window to see if Owlbert was around, I was surprised to find him sitting on the ground in the side yard. I got very excited, ran and grabbed my camera and took these pictures. I apologize for how fuzzy they are, but honestly, I was just thrilled to get him on film at all. 
It is so soothing to lie in bed at night and hear his low calls from a nearby tree. " Hooo-hooo-hooo-hoo-hoo." Over and over again we will hear him call, wether to  friend or foe we do not know. We lie silently in the dark beside each other and strain to listen as he sings his lone song into the midnight sky. "Hooo-hooo-hooo-hoo-hoo."
Eventually, as the night falls silent, Stan will whisper, "I think he's gone." 
I will squeeze his hand in mine and sigh, "Yep. But I'm glad he came to visit." Then I turn over, content and relaxed, as the memory of his song plays over and over in my head until I eventually fall asleep.